Last weekend Mom and I headed South with the horses in tow to Alum Creek State Park. This was not an organized club ride, which was nice as it provided an even more relaxed and informal atmosphere. We met up with one of our friends for a weekend of camping and riding, and we got our bellies full of food, horses, nature, friendship and adventure.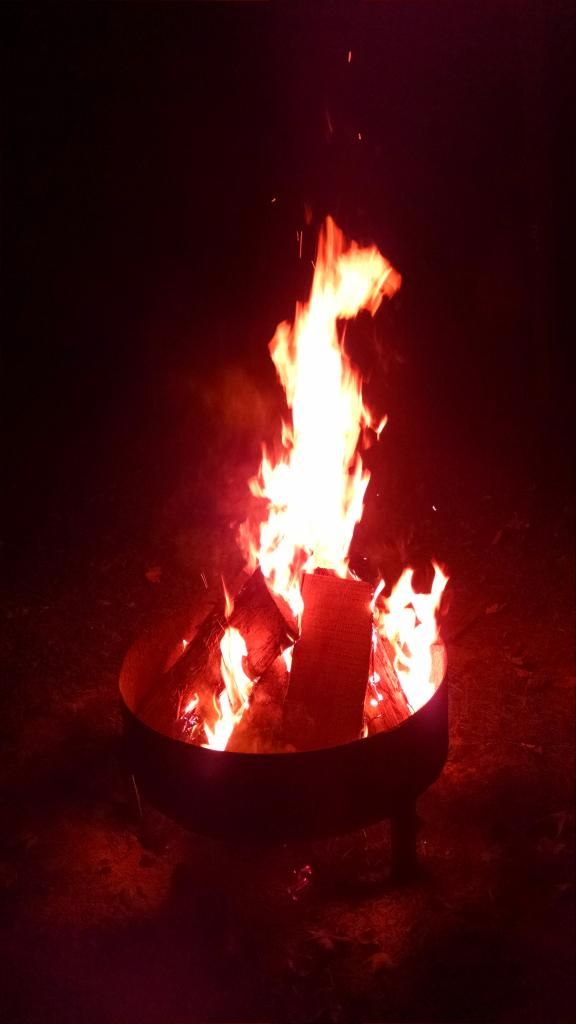 Friday Night Campfire
The three of us headed out for a 3 hour tour on Saturday that ended up being a 4 hour adventure. We got lost several times, faced quite a few hairy circumstances created by man and nature and earned a few more battle scars. All three horses were superstars and got us through mostly unscathed, and I've been reassured just how much I love my horse.
Nothing like facing a few demons and coming out on the other side of the fire alive to strengthen the bond between human and beast.
Saturday Morning Breakfast!
View from the horse trailer. Nothing better.
Mom and our friend, Nancy leading the way.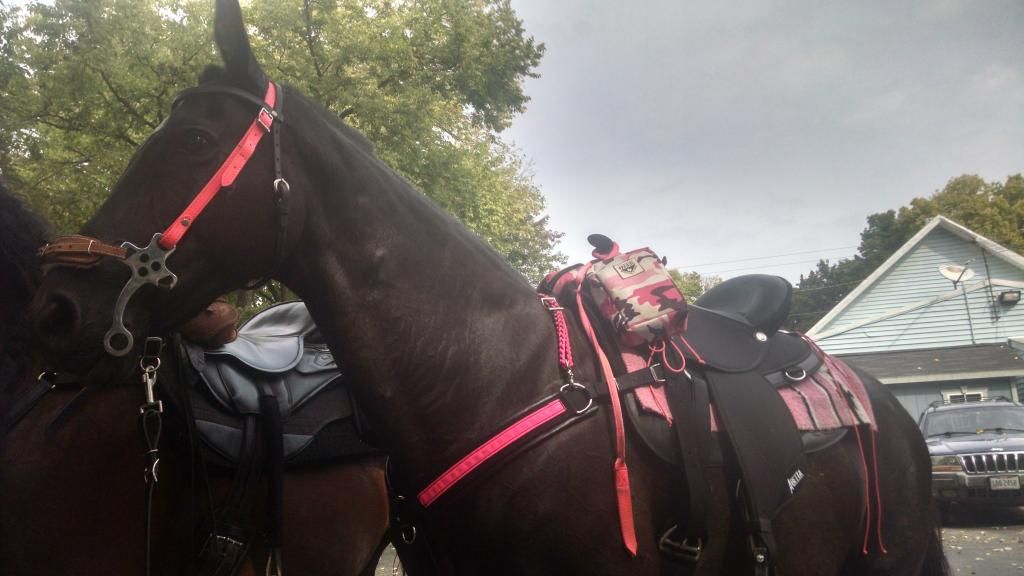 Rest Stop in town
With only an hour and 15 minutes in the saddle, we came to what we THOUGHT was the 1/2 way point of our ride. All three horses had started out with a fire in their bellies and were moving out quite quickly. The place where we chose to rest was in the little town of Kilbourne, in the parking lot of a tiny local grocery. You can get food or drink here, and they have a hitching rail for the horseback riders camping at Alum Creek.
This part of the journey is what impressed me the most with Guinness. He is notoriously a freak when it comes to anything to do with civilization. He can become uncontrollable and inconsolable around houses, stores, strange people, cars, etc. Generally when we enter a populated area, I have to dismount and walk to help him through the scary buggers as he will gallop in place, spin, run sideways and just generally be a dink. As you can see in the above picture, he was an absolute gentleman and so very brave for me.
I didn't think to get any pictures of it, but while we were taking our rest, a man and his little girl of no more than 3 or 4 years old approached me and asked if they could pet Guinness. Now, I know that he is usually very tolerant of children, so I supervised while they said hello to him.
He not only tolerated her (she was so stinkin' cute....curly blond hair, blue eyes, all smiles) but seemed very interested. He sniffed her hair and face, presented his nose for her to pet and stood still as a statue for her to love on him from the safety of her father's arms.
Talk about one proud horsey mama. :) After they had their fill of hands on interaction, they got loaded up in their car but sat and waited for us to mount up and leave so they could watch. Of course coming into the parking lot from the trail and heading back down the road to the trail Guinness was pretty fired up and prancing like a circus horses (I'm sure it looks cool, but it's not much fun to ride), but was completely under control and not doing anything stupid. Like spooking into oncoming traffic, which is always nerve wracking.
After our little adventure in town, we found the trail head to complete our round trip going down the other side of the lake. It took us another 3 hours to make our way back to camp, through difficult terrain, getting lost on side trails and me almost getting my knee taken off as Guinness turned a bit too sharply around a tree, but we had a great time in spite of the few hiccups and have more memories to hold onto.
OUCH!
There were a few mud bogs to traverse in the valleys of the large hills that we were climbing up and down. All three horses's butts looked similar from the mud, so I thought I'd take a picture of Guinness' muddy butt.
Now that's some rough riding!
Ride Safe All!
~The RoadQueen