Of course, my propensity to stop every hip-stitch to take photos in my excitement over my first winter hike of the year didn't help me stay with him.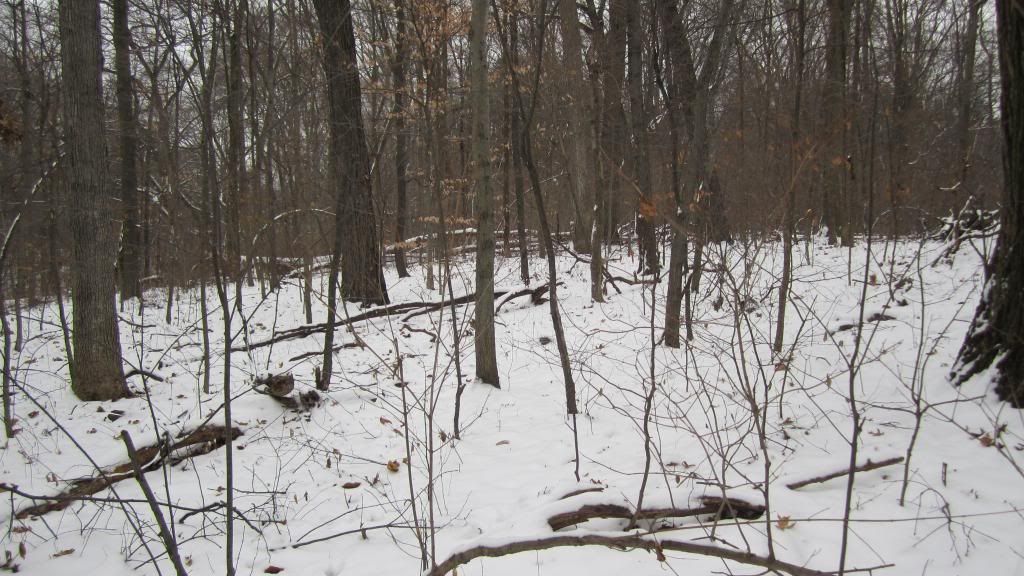 "Oooh, Pretty."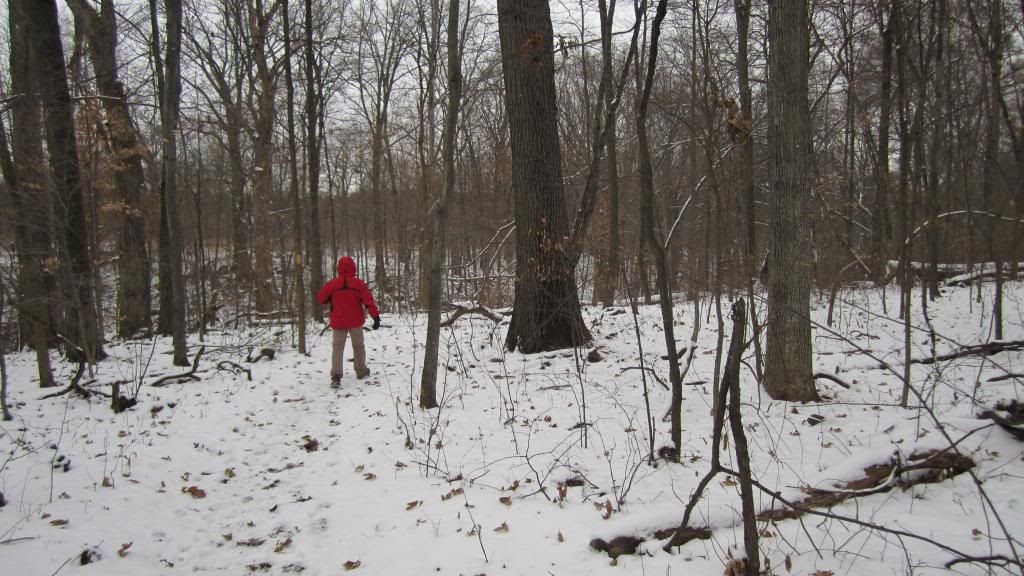 "Oops, HEY RCT, WAIT UP!"
After a mile or so and scrambling after him on the biggest, steepest m-f'ing hill in the park, I cried uncle just a tad because the early effort to keep up before being properly warmed up was making me sweat under my layers of sweatshirts and hoodie. I like to warm up slowly and steadily in the cold weather to avoid breaking a heavy sweat and then getting chilled.
Being the complete gentleman that he is, he let me take the lead and set a slightly gentler pace for a while.
After another mile or so, our muscles were warmed up and were hitting our evenly matched grooves, so for the remainder of the hike we took turns leading.
The conditions for our hike were excellent. Very little breeze, 24 degrees. Cloudy and a very light snowfall at times. The still conditions encouraged lots of different wildlife to get out and forage what they could from the frozen landscape.
There were little critter tracks and big critter tracks everywhere in the snow. We saw Cardinals and other winter birds, a few squirrels, and 3 deer! One was a lone buck, the other two were doe that we startled out of their thicket while tromping, yacking and crunching down the frozen hiking trail.
We had to cross Rathburn Run several times throughout our hike. Rathburn Run is a tributary of Killbuck Creek. We've had quite a bit of rain, then snow, then melt, then more snow, so Rathburn was fairly swollen and moving fast enough to resist freezing over, as it would normally do if it were moving slower.
We each ended up with a foot (or both) in the water at some point, but our trusty hiking boots purchased last year for this hike proved to be money well spent. We each had frozen stiff pant legs, but neither of us had wet feet.
Frozen Pond
This hike proved to be just as fun and pretty as the Lyon's Falls and 14 Mile Mohican Hike that we did last year. Although we each had slightly sore feet at the end of this hike, it was nothing compared to the bodily devastation caused by the Mohican hike!
We ended up getting back to the car at dusk, perfect timing. We were out for about 3 hours, covering roughly 4 miles of steep, rugged trail with frequent stops to take pictures, gab, watch wildlife or just pause to soak up the beauty surrounding us.
I hope that we continue to have temperatures in the 20's and gain snowfall steadily. I love winter hiking, and there are so many wonderful parks in each of our areas. Some I know well, some I'd like to get to know better, and many that I've never set foot on.
~The RoadQueen